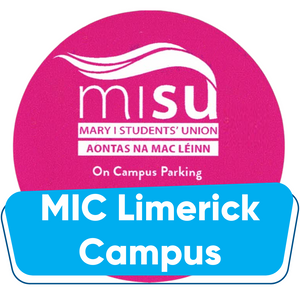 INCOMING FIRST YEARS! Please DO NOT apply before Orientation as a valid MIC ID is required.
An MISU Student Parking Sticker is REQUIRED to use all MIC Limerick Campus Parking Facilities including the Park & Ride Facility.
Required to collect your sticker:
Tax Disc (a photo will suffice)*
Current valid MIC Student ID*
*We cannot fulfill a parking sticker without these items and non-production of items will result in your order being cancelled.* 
Purpose:
This parking sticker is free of charge.
This sticker is designed to let security know you are an MIC student and as such are entitled to use the campus parking facilities.
Through the details you provide, the sticker also allows MISU to easily contact you if there's an issue with your vehicle e.g. lights left on or causing an obstruction. 
T&C's Apply:

Parking on campus is only available in the designated carparks and facilities. Any vehicles parked illegally will be CLAMPED (€120 release fee). MISU reserve the right to provide your details to security if your vehicle is found to be illegally parked.
This sticker does not cover the cost of the €3.00 on-campus Limerick carpark or on-street parking costs. Any student who parks in these locations is liable to pay the fees.
The free on campus car parks are the Summerville Carpark and the Overflow Carpark. Spaces here are limited and operate on a first come, first serve basis.
Your parking sticker lasts for the full academic year so only one application is necessary. You will be notified when your sticker is ready for collection. 
Limerick Campus Parking Sticker
Limerick Campus Parking Sticker
Limerick Campus Parking Sticker
Limerick Campus Parking Sticker