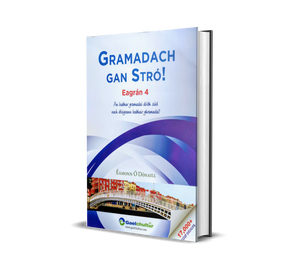 Gramadach gan Stró! by Éamonn Ó Dónaill is suitable for people who already have a reasonable standard of spoken Irish but who wish to improve their grammar. It is suitable for those who don't usually understand grammar books and who find complicated rules confusing.
There are forty additional pages in the new edition and aspects of grammar are included that were not dealt with in the first edition – the adjective in the genitive case, for example, and noun endings in the various declensions. There are also many new exercises included in the book.
This book does not attempt to give detailed information about the grammar of the Irish language; instead, the author focuses on the core aspects of that grammar and tries to present explanations in as few words as possible. Complicated terminology is avoided and plenty of examples are given in order to illustrate the various points.